---
If you like this ezine, please do a friend and me a favor and pass it along.
---
If a friend DID forward this to you and if you like what you read, please subscribe by visiting subscribe
---
My Tribute to John Kemper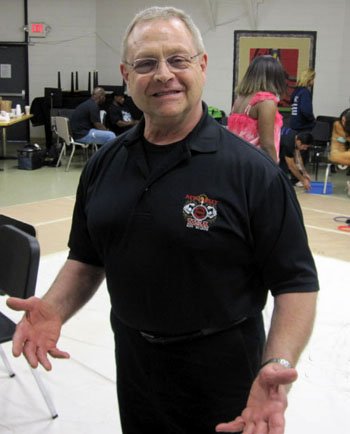 As many of this site's readers know, I am a bodybuilder and have been one since 1978. I can honestly say that no one has influenced me as much as John Kemper has.
Let me share the story of how I came to meet John. Believe it or not, I first began lifting weights in my East Orange apartment living room. I soon outgrew the amount of weight I could safely store there (I lived on the 7th floor.)
I joined a gym in Linden near where I once lived. It was named Guys and Dolls. I had a membership there for a couple of years. Guys and Dolls though had limitations.
It was these limitations which prompted me to find another gym. Guys and Dolls had separate days for men and women. It wasn't so much that there was no co-mingling between men and women as much as I couldn't train precisely when I could and wanted to.
The gym lacked the flexibility in training days I desired.
I don't remember how I initially found out about Diamond Gym, but I did and decided to call to find out membership rates.
When I called, John Kemper answered. This was 1981 or 1982. It was probably closer to 1982.
After John quoted his membership rates, I remember thinking them too high (compared to what I paid at Guys and Dolls.)
I asked John why his membership rates were so high (so I thought then). I forget his reply, but the rest is what they say, history.
I joined Diamond Gym shortly thereafter and have never looked back.
One day after joining the gym, I was driving to the post office during lunch hour. To my amazement, I heard John Kemper being interviewed on a local radio station.
John told the story of some people who came to the gym looking to get "free" weights. They didn't understand that free weight meant dumbbells and barbells as opposed to machines. It didn't mean weight that was being given away by the gym at no cost.
The next time I saw John, I told him that I had heard his interview. He told me that the story was true.
In my youthful enthusiasm - I was 31 years old - I decided to enter the Mr. New Jersey Bodybuilding show. That was to be my very first amateur competition.
Thinking back now, I know I wasn't ready to enter such a top ranked competition. When I informed John, he didn't discourage me, but wished me luck.
That was John Kemper.
Back in the day, as it is today, Diamond Gym was very popular. It enjoys the enviable reputation of being a "hardcore" bodybuilding gym. This is a no nonsense, train or go home gym.
That reputation is due solely to its founder, John Kemper. John was "old school" and a serious believer in hard training with heavy iron.
Although founder and former owner (Diamond Gym is now owned by Dwayne McDaniels), John Kemper was not a laid back executive limiting himself to administrative work. He was in the trenches with paying members "pumping iron."
One day I trained legs with John. Every now and then I would either "cheat" or do an incomplete rep. John would have none of that. He chastised me.
I remember John training for the 1987 NPC (National Physique Committee) Master's National Championship. I caught him in a short-sleeved shirt a couple of weeks out from the show. The veins in his arms looked liked well-fed snakes.
I commented that he was still competing. John replied with something like, "that's what it is all about." John was 47 then.
Back in the '80s, John ran his annual Diamond Gym Show. It was always held at the New Jersey shore. These shows were staged with all the pomp and ceremony of any state or regional show.
I entered a couple of those shows. There were always a fair amount of Diamond Gym competitors at those shows.
I entered my last amateur competition in 2001. It was the over 35 class at the Mr. New Jersey Bodybuilding show. I was 49 years old.
As at all shows, many photographs were taken.
A couple of years after the show as I walked into Diamond Gym, I ran into John Kemper. He told me that he had my photo up on the wall. John Kemper has photos of bodybuilding luminaries like Arnold Schwarzenegger in every room.
He also has photos of home-bred champs like Johnnie Morant and other members who train there. I followed John as he tried to remember exactly where he had placed my photo.
John Kemper had hung my photo in the main room. I was surprised, flabbergasted, and honored. John had saw something in a 49 year old competitor who by the way had not placed in any show, that he posted his picture for all to see.
Again, that was John Kemper - a rare breed.
I wrote a book in 2007 named Living A God-Glorifying Life Through Good Health. I asked several people to endorse it. John Kemper was one.
John obliged. Although I had to remind him a few times, he came through. Here's John's endorsement:
"Thank you for spreading the word of the complete concept of a healthy mind, body, and spirit."
That was John Kemper.
John was truly committed and would go out of his way to help anybody. He was inspirational, and I will miss him.
John was "laid back". I never knew anything to phase him. Although I must admit that he was a little upset when someone accidentally drove their car through Diamond Gym's front entrance. But he took it in stride.
In my early years at Diamond I trained in the evening. John was "minding the store" then.
One particular period of time, my finances were low and I couldn't pay my membership. John would kind of overlook it and still let me train.
Shirley Kemper though was a different story. It was either pay or go home. Naturally I would try to avoid her and show up when John was there.
This is my tribute to John. I know all who knew him have similar memories and tributes.
---


Living A God-Glorifying Life Through Good Health.
(Featured on CNN)

When I was growing up in the '50s and '60s, there was no obesity epidemic, and children were not developing old-age maladies such as heart disease. Cancer, Alzheimer's, and autism were virtually unheard of. Living a healthy lifestyle was a lot easier. More...
---

Follow me on Twitter
---
Joseph Elijah Barrett, Webmaster
www.Living-A-Healthy-Lifestyle.com
We have comprehensive information
for all of your diet, health, and
nutritional needs; extensively
cross referenced. Your one stop
health website.
wellness@living-a-healthy-lifestyle.com

---